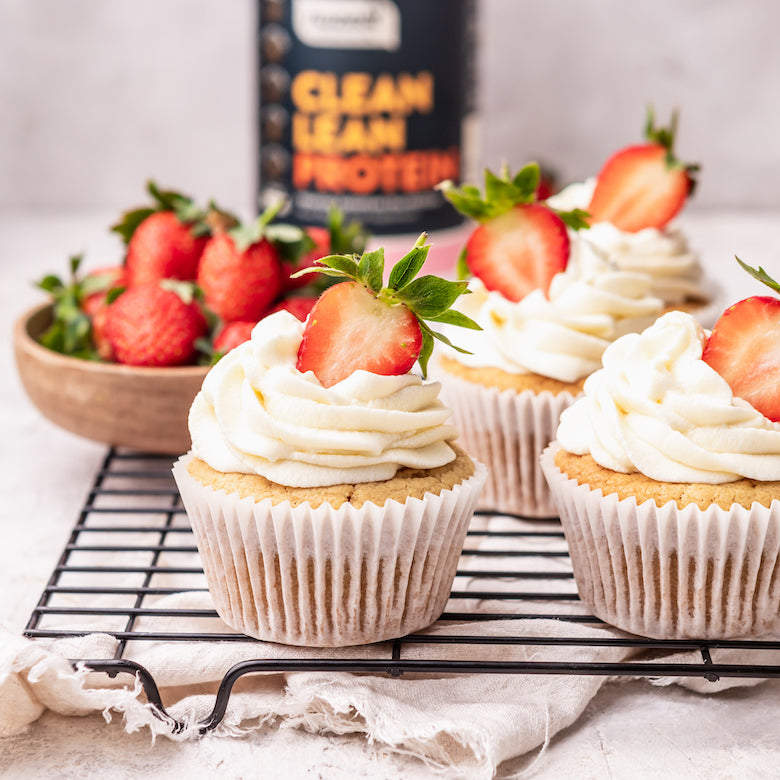 1 min read
Strawberries and Cream Cupcakes
Recipe created by Sarah Hancox
Step into summer with these strawberries and cream cupcakes. Fluffy, sweet and packed with protein.
Method
Preheat the oven to 180°c fan. And line a muffin tin with 8 liners

Add the vinegar to the milk, stir and set aside.

Melt the butter and add to a mixing bowl with the sugar and whisk to combine.

Pour in the milk/vinegar mixture and whisk again.

Add the vanilla paste, sift in the flour, baking powder, bicarbonate of soda and protein powder then stir until just combined.

Spoon evenly between the muffin liners then bake for around 25 minutes until risen and a skewer comes out clean when inserted into the centre.

Allow to cool fully on a wire rack.

Add the room temperature butter to a bowl and beat until paled and fluffy, add the cream cheese along with 1/4 of icing sugar and beat again, gradually adding more icing sugar until fully incorporated.

Spoon or pipe onto the cooled cupcakes and top with a sliced strawberry.