VITALITY AND BALANCE

Feel good naturally, with nutrients to support energy production and your body's natural detoxification pathways.

IMMUNE SUPPORT

Contains a wide range of ingredients that help to regulate inflammation and support healthy immune function.

EASY DIGESTION

We only use ingredients that your body will be able to easily digest and absorb.

MEMORY AND STRESS CONTROL

Contains a combination of nutrients and apoptogenic herbs to support cognitive function and help cope with stress.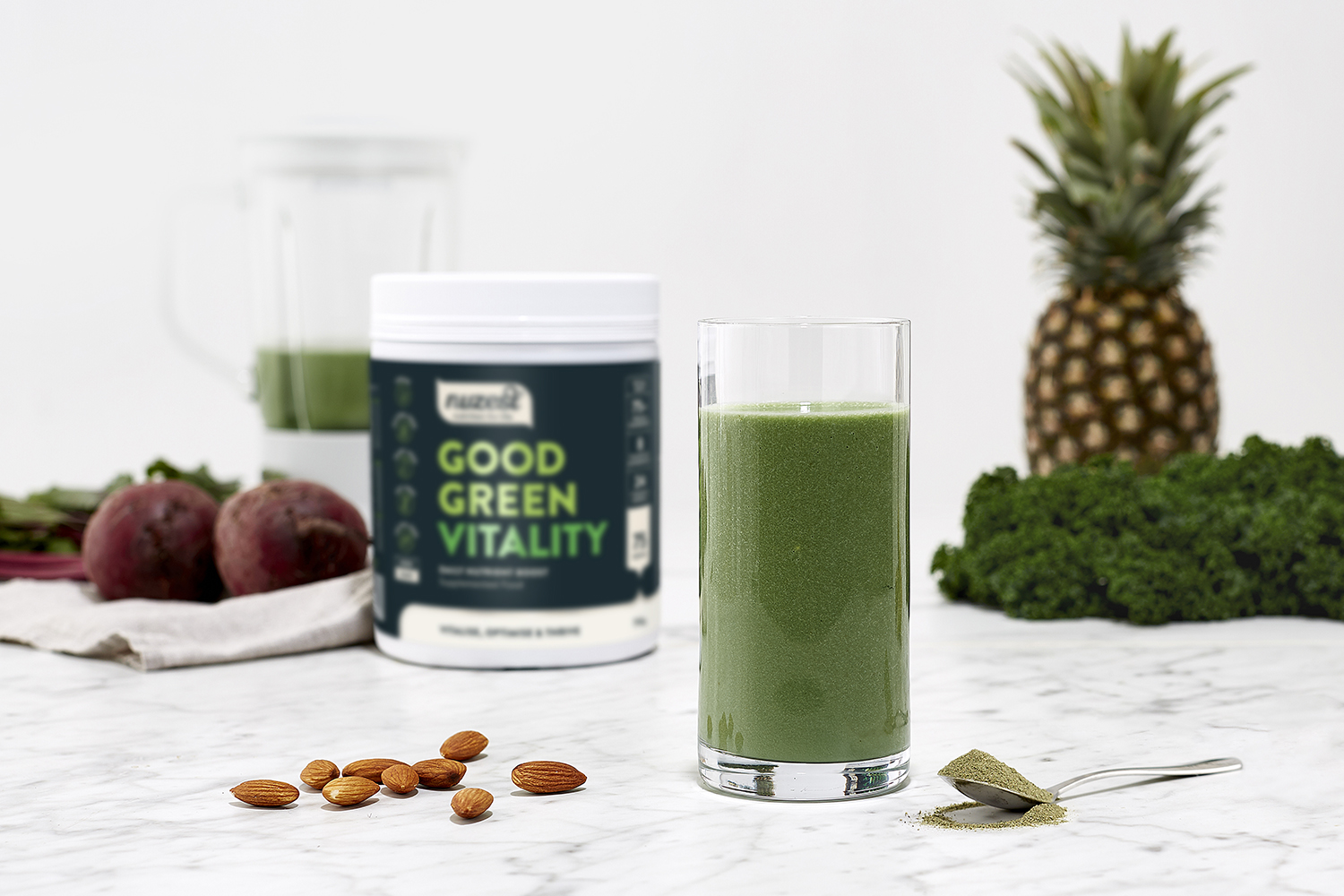 The
Ultimate
Nutrient
BOOST!
Ingredients

Vitamins & Minerals

Plant foods

PROBIOTICS
Today's lifestyle and environment means that despite our best efforts to look after ourselves, our bodies need a little extra TLC to enjoy optimal health. That's why we reformulated Good Green Stuff – to bring you more of what our bodies need most to keep up with modern-day life.
Our refreshed and rejuvenated formula now includes more vitamins, minerals and vital nutrients to further support digestion, immunity, healthy ageing, stress management, energy and cognition.
From children to the elderly and busy mums to pro-athletes, Good Green Vitality is the go-to daily supplement that has everything you need to revitalise, optimise and thrive:
+ Look good with resveratrol, CoQ10 and ashwagandha
+ Feel good with probiotics, enzymes and fibre
+ Defend with zinc, vitamin C and mushrooms
+ Thrive with vitamins B9 and B12 and ginseng
+ 100% vegan with vitamin D, calcium and iodine
+ Nothing bad, nothing GMO, nothing artificial and no nasty chemicals
+ Suitable for everyone from 4 years and up
Nutritional Information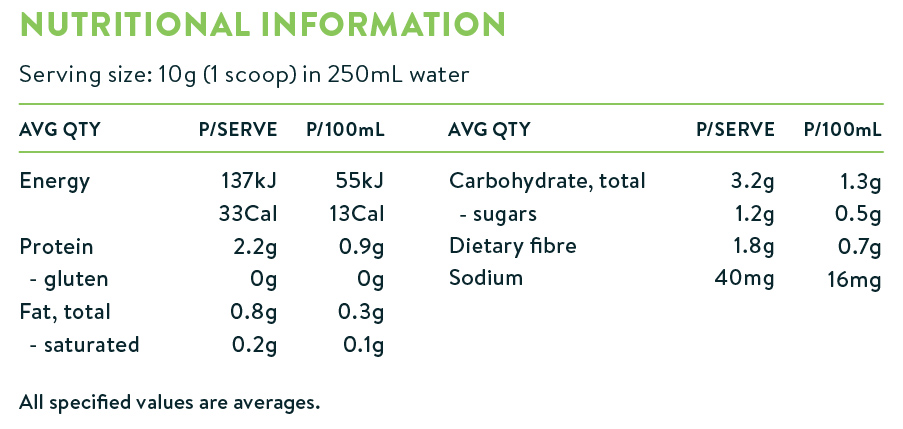 Vitamins & Minerals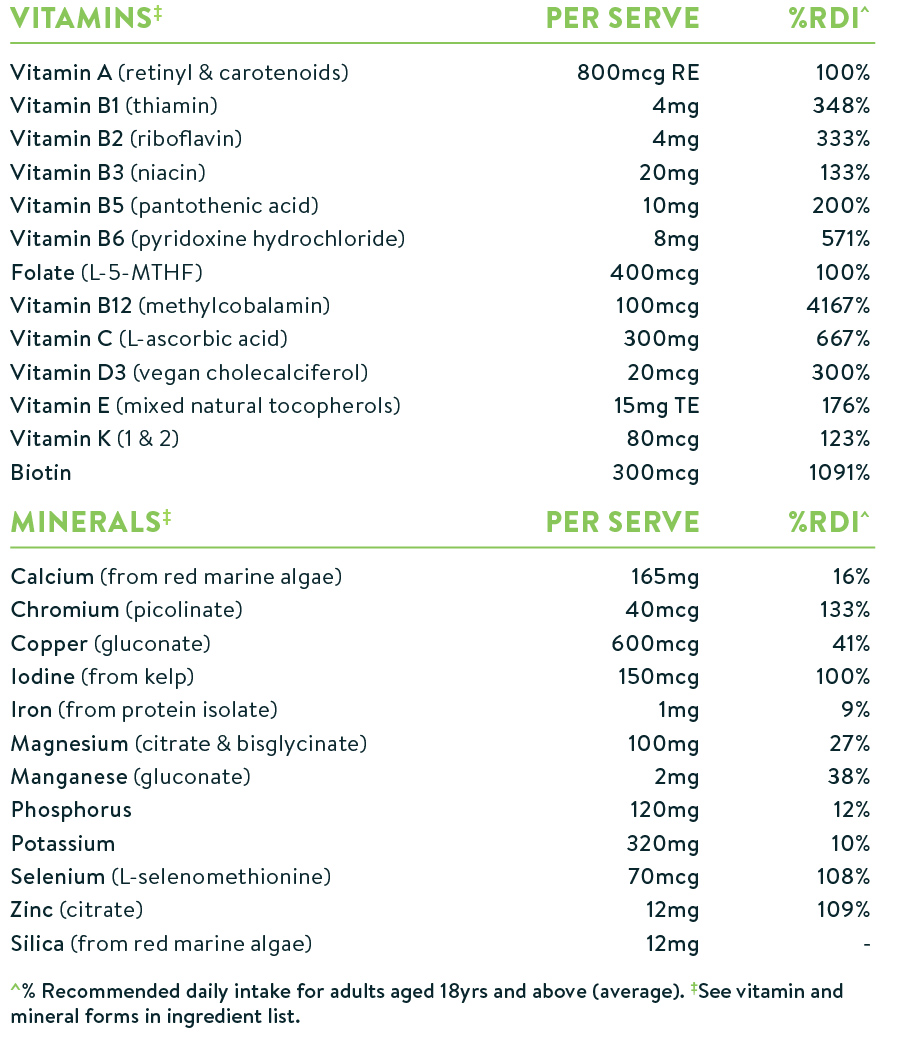 Immune Blend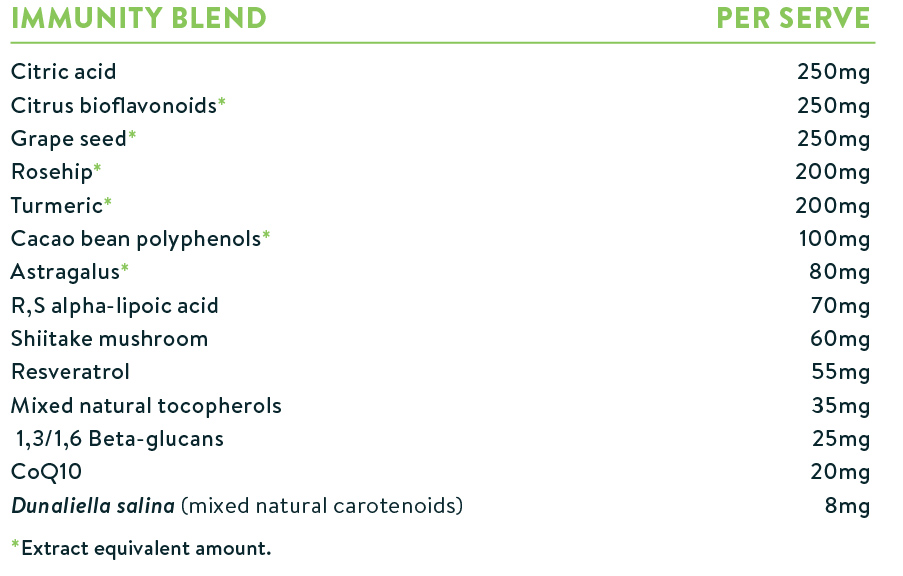 Gut & Digestive Blend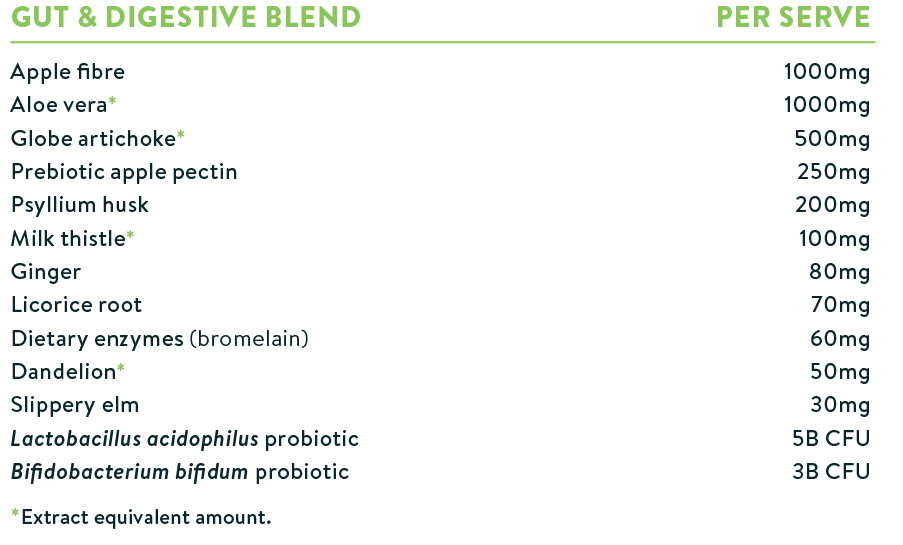 Neural Blend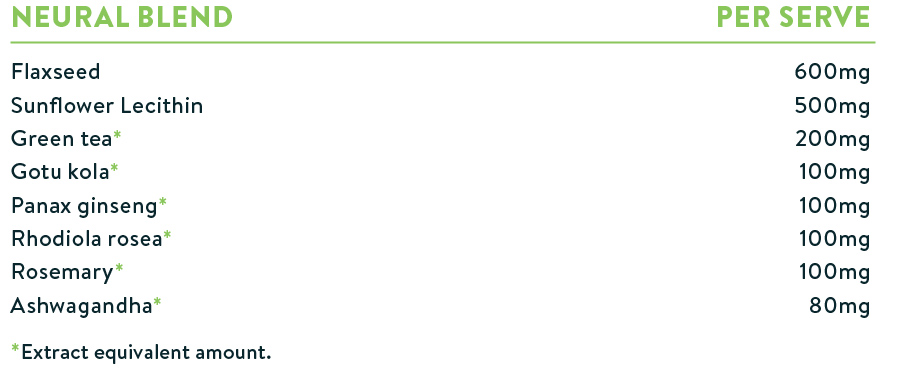 Protein, Fruits & Vegetables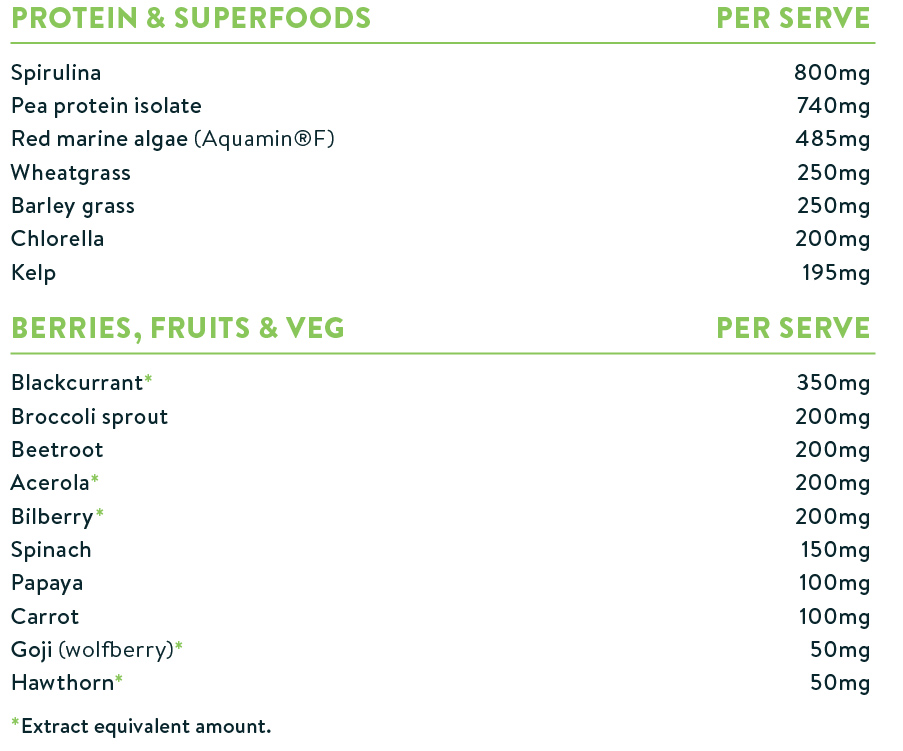 Shipping
We offer free delivery nationwide on orders over $49*
*After discount where applicable.
Throughout New Zealand, we use CourierPost, we want your parcel to get to you safely, quickly and at the lowest cost.  The highest shipping cost is $9.
Depending on the time of day that you submit your order, we aim to have your order delivered to you within 1-2 working days. For South Island and rural deliveries, add an extra day to delivery times.
Courier prices are based on the total weight of your order and on your shipping destination and are calculated before you enter any personal details.
All courier prices include Goods & Services Tax (GST).
Unfortunately we do not ship outside of New Zealand. 
Why take Nuzest Good Green Vitality?
Good Green Vitality is a comprehensive multinutrient supplement that has been expertly formulated to include a combination of fruits, vegetables, herbs, vitamins, minerals, probiotics and antioxidants to support optimal health.
No supplement can replace a healthy diet, but Good Green Vitality can help to offset poor dietary choices, increased lifestyle demands and environmental toxins. Think of it as nutritional insurance to help fill the gaps in your diet.
Good Green Vitality has been formulated by a global team of health experts. The form of every ingredients has specifically been selected for maximum bioavailability and efficacy. Blended in world class facilities, every batch is tested before release.
Good Green Vitality is free from all common allergens. No gluten, dairy, eggs, nuts, soy or corn. No GMO ingredients. No nasty chemicals, artificial preservatives or fillers. Just concentrated, real-food ingredients with a multinutrient boost.
Made from a powdered real-food base, Good Green Vitality is easier to digest and absorb than tablets of capsules. The nutrients found in Good Green Vitality have been chosen in forms that are recognised by the body, so you can rest assure every vitamin and mineral will be easily absorbed.
HOW TO USE Good Green Vitality Sachets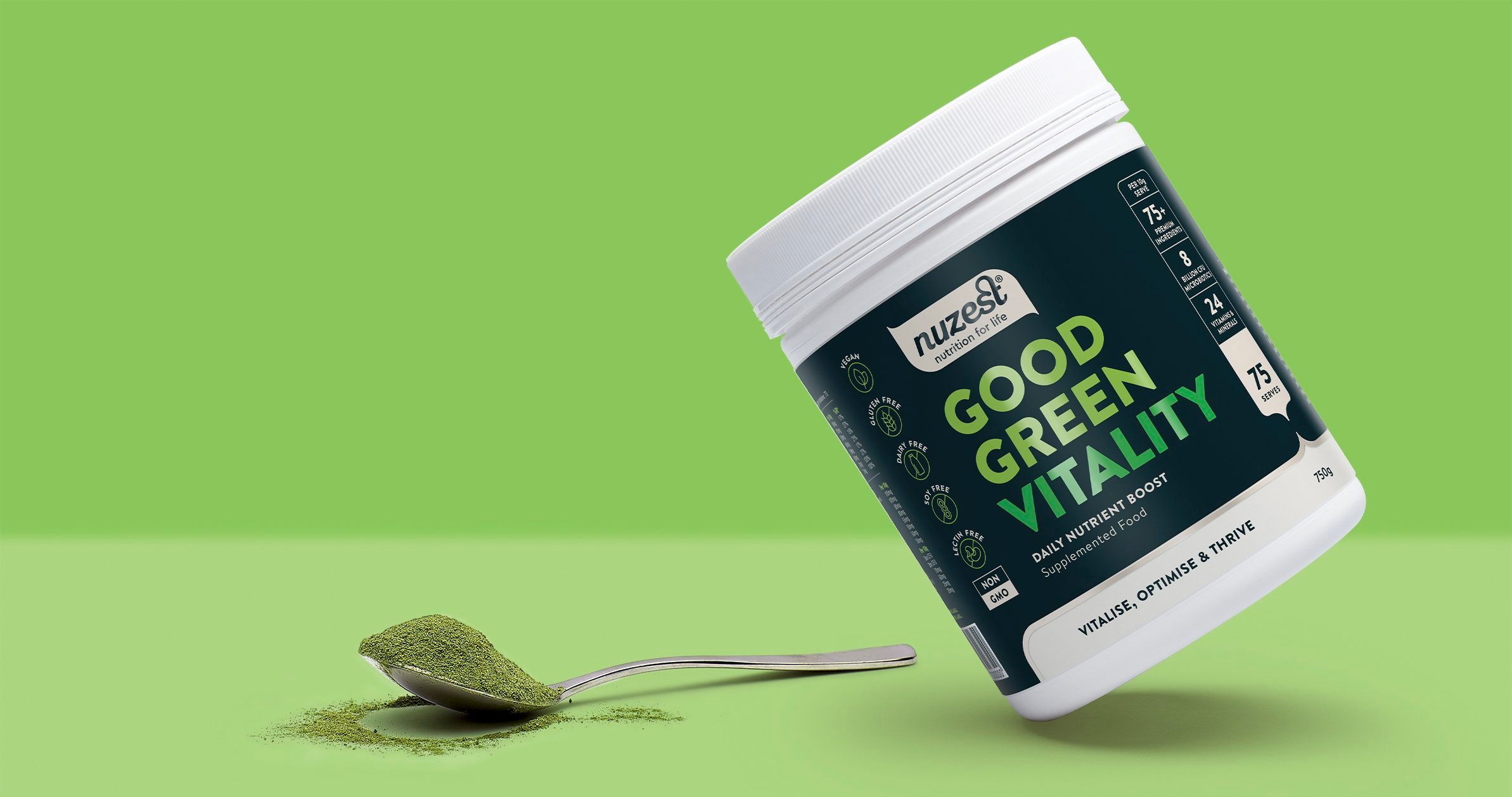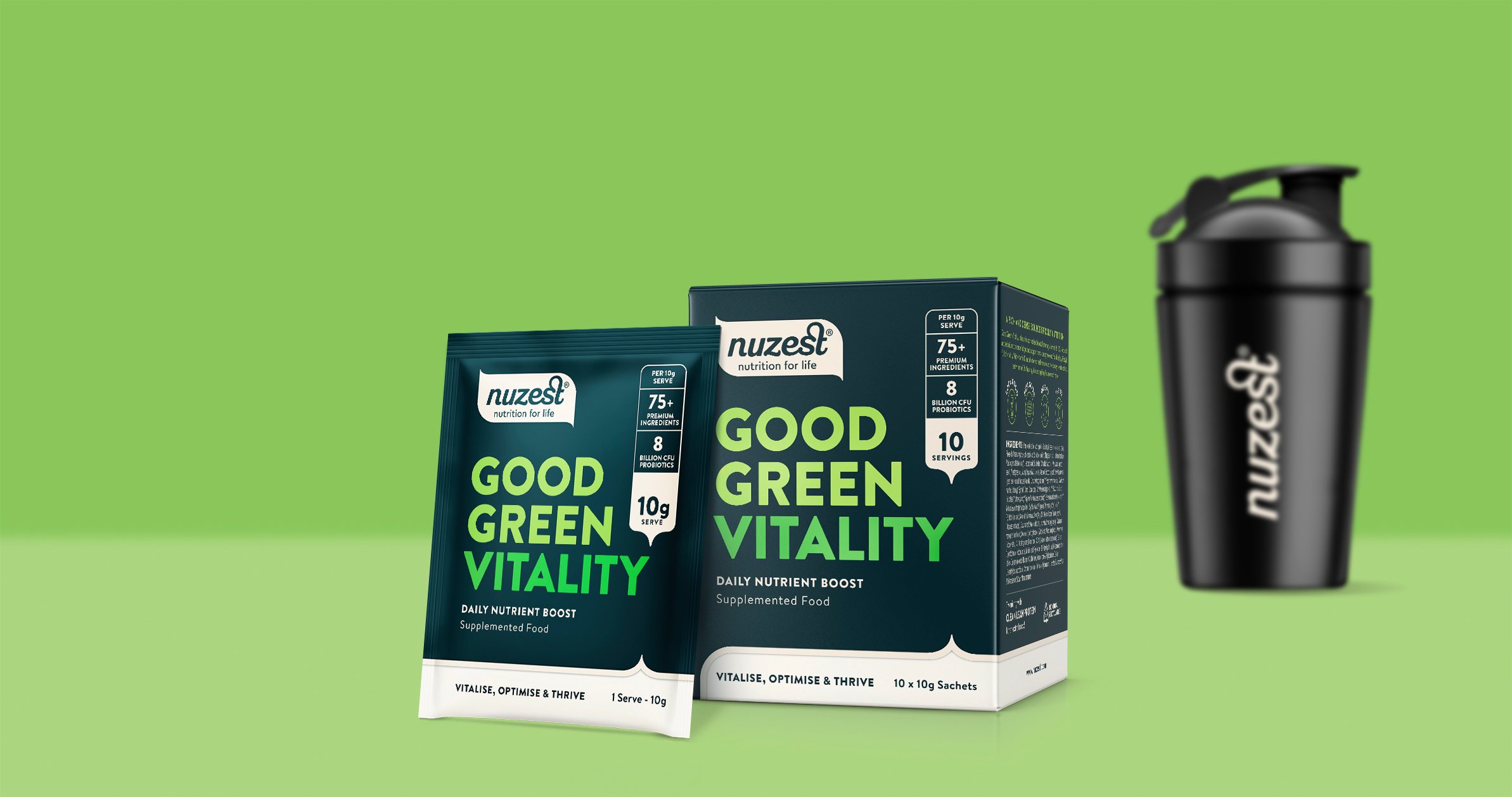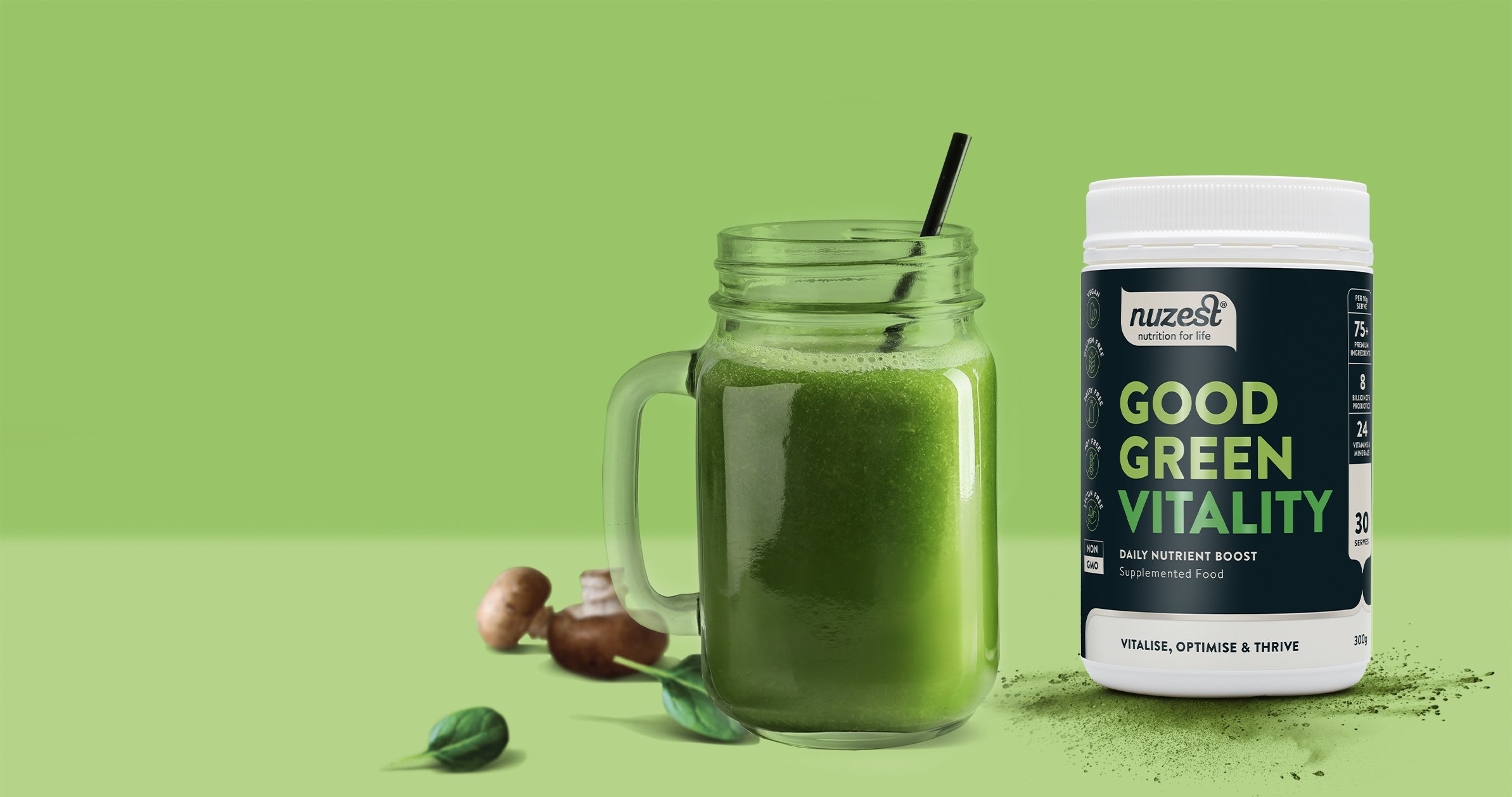 Good Green Vitality Sachets FAQS
How is Good Green Vitality different to Good Green Stuff?
Apart from the stylish new name and new look, Good Green Vitality has been refreshed and reformulated to bring you more of what your body needs to keep up with the demands of modern-day life. Having paid attention to what we need most, the new formulation now includes more vitamins, minerals and nutrients to further support: - Digestion; with the addition of aloe vera, apple fibre and psyllium husk, and increased levels of flaxseed, milk thistle, dandelion, ginger, slippery elm and probiotics. - Immunity; through increased levels of vitamin D3 and selenium, cacao bean, shiitake mushroom, beta glucans and astragalus. - Healthy ageing; with greater antioxidants from more grape seed and green tea extracts, curcumin (from turmeric) and natural carotenoids. - Stress management; with a greater boost of B3, B6 and B9, along with a larger dose of your key adaptogens for stress support, rhodiola and ashwagandha. - Energy and cognition; with more of the essential vitamins and minerals that make you feel good, as well as increased rosemary and gotu kola extracts, and CoQ10.
Is Good Green Vitality suitable for coeliacs and vegans?
Yes, Good Green Vitality is suitable for both coeliacs, vegetarians and vegans. None of the ingredients in Good Green Vitality are derived from animal products and it is certified gluten free.
Is Good Green Vitality safe for children?
According to Australian and New Zealand regulations, Good Green Vitality is suitable for children aged 4 and over. However the dosage for children aged 4 - 14yrs is half that of an adult (1/2 scoop). Regulations may vary from country to country but, in any event, we do not recommend Good Green Vitality for anyone under the age of 4. Kids Good Stuff is a better alternative for children as the formula was developed specifically for early childhood development.
Is Good Green Vitality safe for diabetics?
Good Green Vitality is completely safe for diabetics. There is about 3 grams of carbohydrates per serve so the effect on blood glucose is minimal; and, at around 35 calories per serve, the effect on those with type 2 diabetics, metabolic syndrome and pre-diabetic disorders is almost nil. Good Green Vitality may even help those with diabetes due to the inclusion of ingredients such as chromium and green tea extracts that aid glycaemic control and blood sugar level stability.
How is Good Green Vitality labelled 'gluten free' when it contains barley and wheat grass?
The barley and wheat grass in Good Green Vitality are the growing portion of the plant, not the grain. The grain is the part that contains gluten. Every batch of Good Green Vitality is tested for gluten and is certified gluten-free.
How is Good Green Vitality different from other greens products?
Firstly it's not just a 'greens' product. Many 'greens' products are simply powdered foods without any fortification of essential vitamins and minerals, or probiotics, bioflavonoids etc. Powdered food blends are OK for a little 'boost' in your smoothie but without taking significantly more than the recommended teaspoon or two, they really do not offer significant supplementation. Of those 'greens' products that do strengthen their powdered foods with added vitamins, minerals, probiotics etc., you will find that Good Green Vitality has significantly higher levels of nutrients than most, if not all, products available in this category. Most importantly however are the forms of those ingredients. Good Green Vitality uses the most bioavailable, 'body-friendly', and effective forms available; many of which are not used by ANY of our competitors. It makes for a more effective, more efficient, and in some areas safer, formula to your health and wellbeing.
Why do I need Good Green Vitality (or any supplement)?
For nutritional insurance - to help plug the gaps in your diet due to poor food quality, soil depletion and imperfect dietary choices; and because of the demands our bodies make for extra nutrients due to environmental toxins and our high-stress modern lifestyles. Nothing should replace a balanced diet of real food - supplements simply help fill the gaps.
I have several health conditions and am taking a lot of medications. Is it OK for me to take Good Green Vitality?
There can often be drug-herb and drug-food interactions with poly drug use. We always recommend that anyone with a pre-existing condition, and those taking medication, consult with a suitably qualified health practitioner before using any nutritional supplement.
Good Green Vitality Sachets Is Loved by Customers
99%
of reviewers would recommend this product to a friend
Customer photos and videos
Reviewed by alex t., from New Zealand
Verified Buyer
I recommend this product
Product Standouts
Sustainability
Blendability
Ease of use
Digestability
Nutritional profile
great product
Excellent powder, should be given at school to kids I reckon
Reviewed by Shane P., from New Zealand
Verified Buyer
I recommend this product
Reviewed by James a., from New Zealand
Verified Buyer
I recommend this product
Great tasting product
Take it for peace of mind , very soluble up and go product