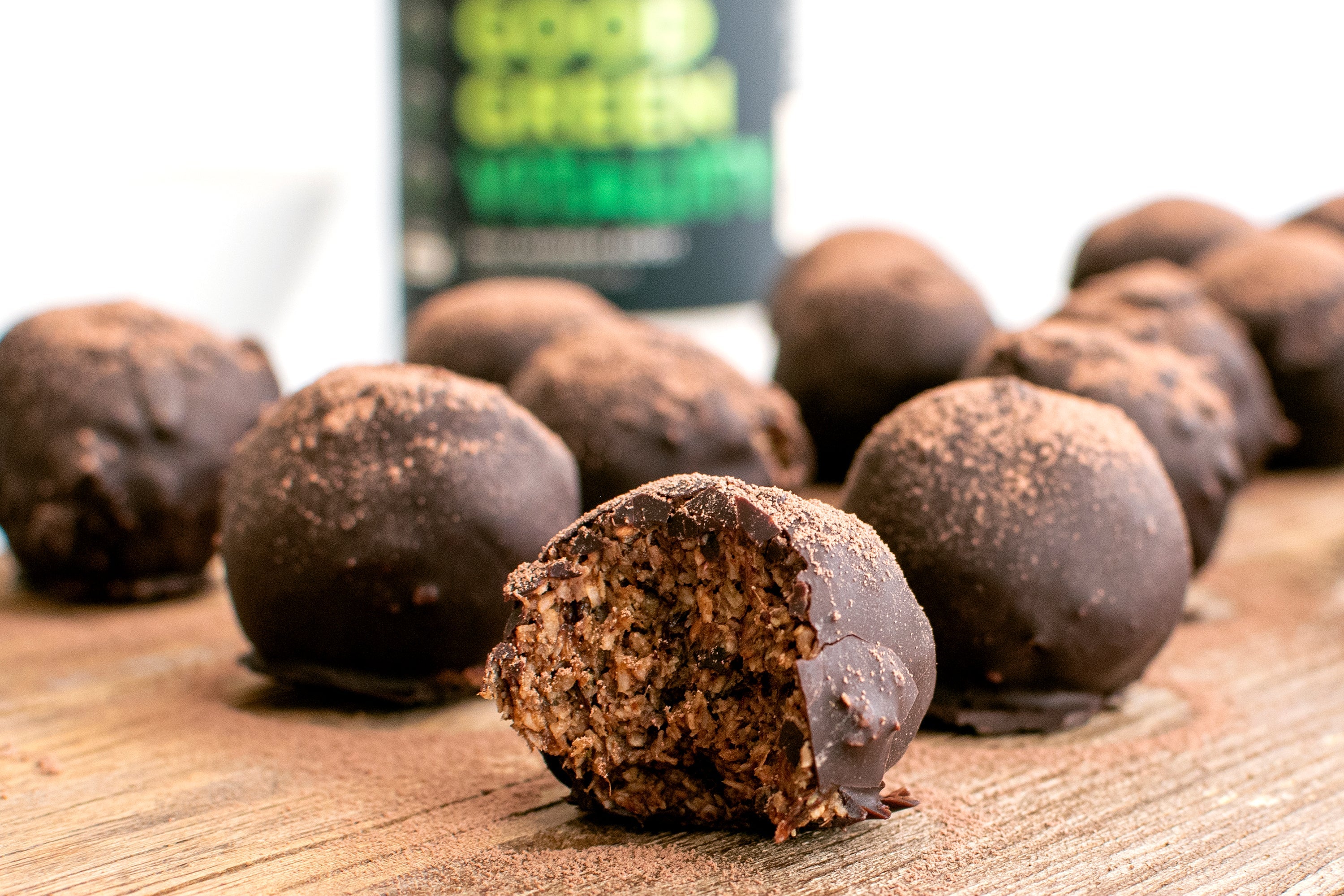 1 min read
Beauty Truffles
A snack to help fight skin damage, made with Good Green Vitality.
Ingredients
Truffles:
1 cup pitted prunes, soaked in hot water for 20 minutes, then drained
1 cup fresh raspberries
2 scoops of Good Green Vitality
2 cups desiccated coconut
Chocolate coating:
3/4 cup raw cacao butter
1 cup raw cacao powder
Antioxidants are such an important nutrient to consume, they can help your skin fight free radical damage and recover from oxidative stress. Antioxidants are more commonly seen to help improve the signs of ageing, help prevent sun damage, help to brighten skin tone and help the skin repair itself. 
These beauty truffles are packed with antioxidants from the raspberries, cocoa and the Good Green Vitality. So if you are looking for a tasty, healthy snack that is also going to help fight skin damage, try these.
Method
Add the soaked prunes, raspberries, Good Green Vitality and desiccated coconut into a food processor and blend until well combined.
Take heaped tablespoon amounts of the mixture and roll into balls.
Place the balls into the fridge for 30 minutes to firm up.
Meanwhile, melt the cacao butter in a heat proof bowl. Add the cacao powder and stir until smooth.
Gently dip each ball into the chocolate and place onto a lined tray.
Place the tray into the fridge for 20 minutes before coating the balls for a second time.
Set once more in the fridge and store in an airtight container for up to one week or longer in the freezer.
Time: 2 hours
Serves: 20