1 min read
Ultimate Vegan Meatballs
A delicious protein twist on spaghetti and meatballs. Made with Just Natural Clean Lean Protein
Ingredients
40g Just Natural Clean Lean Protein (1 ½ servings, 3x scoops)
1 cup Black Rice
1 tin Black Beans
250g Mushrooms
4 cloves Garlic (finely grated or crushed)
½ Onion (finely chopped or grated)
½ tsp Smoked Paprika
1 Tbsp Tamari
½ Cup Cashew Nuts
100g Pumpkin, baked and mashed
¼ cup Flax meal (ground flaxseeds)
½ tsp Salt
½ tsp Pepper
Options To Serve:
Pasta Sauce- onion, garlic, herbs and tomatoes make a delicious sauce
Spaghetti
Zucchini noodles
Bread
Getting enough protein can be a little bit of a challenge on a vegan diet. These Ultimate Vegan Meatballs are loaded with excellent quality protein- giving you around 20g of plant-based protein per serve. They can be served on pasta (gluten free or otherwise are a hit with the kids) on zoodles (zucchini noodles), on a sub or on their own. To take them to the next level, serve with a rich tomatoey sauce. 
Recipe by Kerry Locatelli, BNat
Method
Give the black rice a good rinse and place in a pot on the stove. Add 2x cups water to the rice and bring to the boil. Cover and simmer for 25mins. Turn the heat off and let it stand with the lid on, for 10mins.
While the rice is cooking, chop the mushrooms, add them to a pan and sauté with avocado oil. Add the onion, garlic and smoked paprika and sauté a little longer. Add the tamari sauce, mix and turn the heat off. Put the mushrooms to one side and allow to cool.
Lightly roast the cashew nuts (or you can buy already lightly roasted cashews)- careful not to burn them. Set them to one side too.
Rinse the black beans thoroughly and add to a food processor. Add the Clean Lean Protein and flax meal. Now add the cooked black rice, cashews, mushrooms, mashed pumpkin, and the salt and pepper. Pulse to combine.
Once you have the desired consistency, shape into meatballs. The longer you process the meatballs the 'mushier' they will become- I like a little texture so I like to make sure I dont process the mixture for too long.
Place them in the fridge to chill and set (15-20 mins should do the trick).
Brown the meatballs in a frypan, with a little oil. If you are having these with a sauce, add directly to the sauce heat through. Serve as desired on pasta, zoodles, in a sub or on their own.
Enjoy!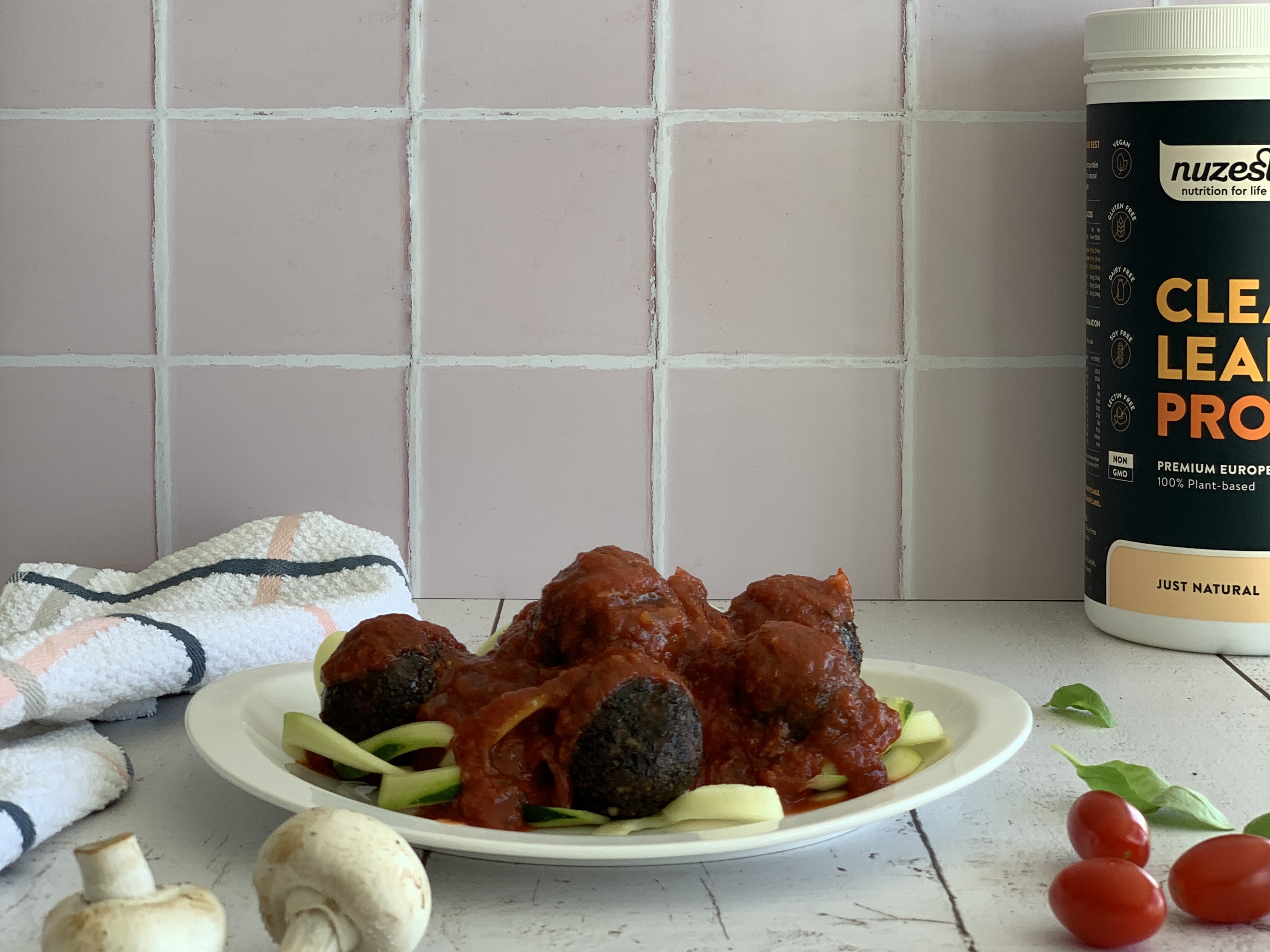 Time: 60
Serves: 4